Apr 06, 2023
Hobart Expands Continuous-Feed Food Processor Offering
TROY, Ohio (April 6, 2023) – Hobart, the premium commercial food equipment manufacturer known for designing and building some of the most reliable, must-have equipment, has expanded its continuous-feed food processor offering to include the FP300i floor model. This maximum heavy-duty food processor can process up to 88 pounds of product per minute and comes complete with the base, a stacking feed cylinder and a manual pusher plate for increased versatility. 
The large, full moon-sized cylinder allows for a variety of products and eliminates the need for pre-cutting. The manual pusher plate features an ergo-loop that provides a lever effect, reducing the need for manual force when processing large, hard products, such as root vegetables, cabbage and cheese. The 45-degree angle of the cylinder and the convenient height of the FP300i floor mount make it easy for operators to load products with less fatigue. 
Hobart offers an optional bulk feed hopper and cylinder set for purchase. The cylinder funnels product into the bulk feed hopper and is best for efficiently processing round products such as potatoes, onions and tomatoes. An optional four-tube feeder is available for loading long, narrow products like cucumbers, carrots and celery. 
The FP300i food processor provides a plate speed of 500 rpms, the ideal speed for processing without bruising the product. Available cutting tools allow operators to slice, dice, shred, grate, crimp, julienne and more, and the unit includes an exclusive decoring screw that deflects product from the plate hub to ensure complete processing. A 1 hp motor with planetary drive supports optimal performance. 
Hobart designed the FP300i food processor with a stainless steel hopper and housing. All removable parts and cutting tools from the FP300i are dishwasher-safe for improved sanitation and cleaning. 
To provide operator assurance, the FP300i food processor features a double interlock switch to keep it from running when the pusher plate is open or swings away. It also has a no-volt release that prevents it from turning on if power is lost. 
Hobart food processors like the FP300i floor model can save time and money in the kitchen. For more information on the company's full food processor offering, visit the Hobart food processor web page.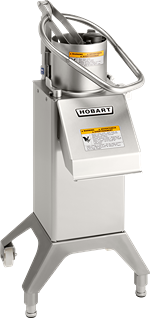 About Hobart
At Hobart, an ITW Food Equipment Group LLC brand, it is our mission to provide premium food preparation equipment that foodservice and food retail professionals can trust to work hard and deliver quality, consistent results day in and day out, empowering them to focus on what they love most - creating great food for great people. From one plate to one thousand, Hobart helps you satisfy every appetite. Whether you need to mix, chop, grind or peel, our legendary equipment is the perfect partner. Backed by our nationwide network of 1,500 factory-trained service technicians, we're always nearby to install, maintain and service your equipment. Hobart is part of ITW Food Equipment Group LLC (a subsidiary of Illinois Tool Works Inc.) and is proud to be an ENERGYSTAR® Partner of the Year since 2008. Explore Hobart by visiting Hobartcorp.com, connecting with us on Facebook at Facebook.com/hobartcorp or by contacting your local Hobart representative at 888-4HOBART.