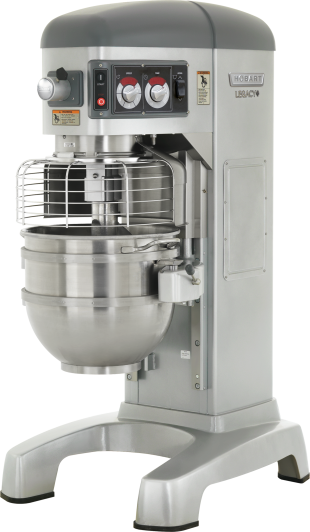 Legacy+® HL662 Pizza Dough Mixer
The maximum heavy-duty mixer that serves up the perfect pie every time.
The Legacy+® HL662 pizza dough mixer is designed to meet the needs of even the most demanding operation. This industrial dough mixer's two fixed speeds deliver the consistency you're looking for to thoroughly knead heavy dough. Hobart's Legacy+ pizza dough mixers are equipped with the exclusive PLUS System, a powerful combination of three industry-leading technologies that give you more. The PLUS System includes the VFDadvantage, maximum capacity overheat protection and reinforced planetary shaft. The VFDadvantage variable frequency drive provides the high torque, low RPM speed needed to mix great pizza dough all day long.
Do it all on one machine by using attachments to shred cheese and slice vegetables and pizza toppings. The SmartTimer™ feature with automatic time recall and the Shift-on-the-Fly™ controls make it even easier to create the best pie!
Not sure what size mixer you need? Our absorption ratio and capacity calculator recommends the right mixer based on your recipe!